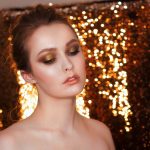 When it comes to makeup, eyeshadow is a go-to choice for many people looking to enhance their eyes. One of the key factors that can make an eyeshadow stand out is its pigment. But what exactly are eyeshadow pigments, and how do you choose the right one for you?
Eyeshadow pigments are the ingredients that give eyeshadows their color. These pigments can come in a variety of colors and textures, from matte to shimmery to glittery. The quality and intensity of an eyeshadow's pigments can have a big impact on the final look of your eye makeup.
So, how do you choose the right eyeshadow pigments for you? Here are some things to consider:
Skin Tone: The first thing to consider when choosing eyeshadow pigments is your skin tone. Certain colors may look better on certain skin tones than others. For example, people with warmer skin tones may look better in eyeshadows with gold or orange undertones, while cooler skin tones may look better in shades with silver or blue undertones.
Eye Color: Another factor to consider when choosing eyeshadow pigments is your eye color. Certain colors can make your eyes pop, while others may clash. For example, if you have blue eyes, shades of orange and rust can bring out the blue in your eyes, while shades of blue can make them look dull.
Texture: In addition to color, texture is another factor to consider when choosing eyeshadow pigments. If you want a more natural or subtle look, matte eyeshadows may be the way to go. If you want to add some sparkle and shine, shimmery or glittery eyeshadows can do the trick.
Brand: Finally, the brand of eyeshadow you choose can also impact the quality and intensity of its pigments. It's important to do research and read reviews before choosing an eyeshadow brand to ensure that the pigments are of good quality and will last throughout the day.
Once you've chosen your eyeshadow pigments, it's important to know how to apply them properly. Here are some tips:
Use an eyeshadow primer to help the pigments stay in place and last longer.
Apply a transition shade to your eyelid crease before applying the main pigmented shade. This will help blend the colors seamlessly.
Apply the pigmented shade with a flat eyeshadow brush, starting from the inner corner of your eyelid and working your way out.
Build up the pigment gradually with multiple layers, rather than applying too much all at once.
Finally, blend the edges of the eyeshadow with a clean blending brush for a flawless finish.
Eyeshadow pigments can make a big impact on your eye makeup look. With these tips, you can choose the right pigments for you and apply them like a pro.