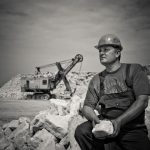 As the mining industry continues to expand, the importance of understanding mining tenement locations and land ownership rights only grows. An online service called Mining Tenement Online helps users to access key information about mining tenements in Australia. This service streamlines the process of acquiring accurate and up-to-date data on mining leases and tenements for individuals and companies involved in the mining industry.
In the past, accessing mining tenement information was a laborious and time-consuming task. Before the advent of digital technology, interested parties had to visit government offices or comb through physical copies of records to determine whether an area was subject to a mining lease or tenement. The geographic scope of this task was often daunting, making it difficult and costly to obtain the necessary information. But with the introduction of Mining Tenement Online, anyone with an internet connection can access mining lease information at any time.
The benefits of Mining Tenement Online are clear: it saves time and money. Instead of traveling long distances or spending time seeking out and studying lengthy documents, users can quickly find the information they need online. This service also helps to prevent errors that can arise from the inaccurate interpretation of mining tenement data, a common problem associated with the analog methods of accessing this information.
Additionally, increased accessibility to mining lease information has led to greater transparency in the mining industry. Access to information provided by Mining Tenement Online empowers all parties involved in mining operations, including landowners and community groups, to make informed decisions about mining activities taking place on their land.
Mining Tenement Online makes it easier to view and analyze mining tenure data which can be accessed through the search features provided by the online platform. The information is available by either a map-based search or a tenement-based search. A map-based search requires the user to select an area of interest on an interactive map and it then displays all mining leases and tenements that overlap into that particular area. Whereas, a tenement-based search requires a specific tenement number or tenement name to be entered before the relevant information is produced.
This platform also provides access to essential administrative details such as holder's name, issue date, expiry date, and current status of mining leases and tenements. It can also alert the user about pending applications, providing important and up-to-date information for decision-making purposes.
Mining Tenement Online provides an invaluable resource for all stakeholders, ranging from companies looking to conduct their own mining operations to landowners seeking a better understanding of the mining activities taking place on their land. This digital platform offers greater accessibility, improved decision-making capabilities, and increased transparency for all involved in the mining industry.
Mining tenement information is a crucial component of the mining industry, and Mining Tenement Online provides an efficient, cost-effective, and transparent solution. This service has brought great benefits to the mining community, allowing for more informed decisions, greater transparency, and improved access to crucial information. As more people come to rely on Mining Tenement Online, it's clear that this digital platform will play an essential role in shaping the future of the mining industry in Australia.