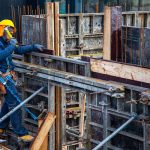 Working at height is a critical part of many jobs in construction, maintenance, and services industries. However, it is also one of the most dangerous and leading causes of workplace accidents and fatalities. In order to ensure the safety of workers and prevent accidents, several countries have introduced working from height regulations. These regulations aim to provide a comprehensive framework and guidelines for employers and employees to follow when working at height.
What is considered working at height?
Working at height is defined as any task that requires a person to work above ground level or at an elevated position, where a fall could result in injury or death. Some common examples of working at height include working on a roof, scaffolding, ladders, or elevated platforms.
Why are working from height regulations necessary?
Falls from height is a significant cause of workplace accidents and fatalities. In the UK, it is the leading cause of fatalities among workers. Therefore, several countries, including the UK, have introduced regulations to reduce the risk of falls. These regulations help to ensure that workers are trained, equipped, and protected when working at height.
What are the key regulations for working at height?
The specific regulations for working at height can vary depending on the country, industry, and type of task being performed. However, there are some common elements that these regulations address:
Risk assessment: Employers must assess and identify any potential risks associated with working at height. This includes identifying the hazards, evaluating the risks, and implementing control measures to minimize or eliminate the risk.
Training: Employers must ensure that employees who work at height are adequately trained, competent, and have the necessary skills and knowledge to carry out their tasks safely.
Equipment: Employers must provide appropriate equipment for working at height, including ladders, scaffolding, and other access equipment. This equipment must be regularly inspected and maintained to ensure it is safe and fit for use.
Fall protection: Fall protection measures, such as safety harnesses and lanyards, must be used when working at height wherever possible. These measures help to prevent falls and minimize the risk of injury if a fall does occur.
What are the consequences of non-compliance with working at height regulations?
Employers who fail to comply with working from height regulations can face serious consequences. These can include fines, imprisonment, damage to reputation, and civil claims for compensation. In addition, the company and individuals responsible for the breach may be subject to legal action and a prohibition notice to cease work until the issues are resolved.
What can workers do to protect themselves when working at height?
While the responsibility for ensuring safety primarily lies with the employer, employees also have a vital role to play. Some simple steps that workers can take to protect themselves when working at height include:
Always follow the guidelines and procedures set out by the employer.
Use the appropriate equipment and ensure that it is well-maintained and in good condition.
Wear the appropriate personal protective equipment, such as safety harnesses and hard hats.
Never take unnecessary risks or shortcuts when working at height.
Working from height regulations are critical to ensuring the safety of workers who perform tasks at elevated positions. Employers must take these regulations seriously to minimize the risk of accidents and fatalities. Employees also have a critical role to play in protecting themselves by following the guidelines and procedures set out by their employer and using appropriate equipment and protective gear. By working together, employers and employees can create a safe and compliant work environment that reduces the risk of falls from height.