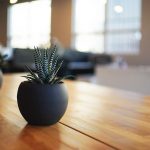 Fabric grow pots are maybe the farthest thing from the minds of most people when they consider growing potted vegetables and other plants. Gardening in fabric pots have been a phenomenon since 1980 and this method has been used by millions of gardeners across the globe. The pots are durable, lightweight and can be reused for many years. Best of all, massive root growth result from these pots, which produces remarkable vegetable yields and healthy plants overall. Below are details of some of the benefits fabric container gardening has on roots:
Provides Air Pruning Capabilities
When plants are placed in fabric containers, they promote roots that grow toward the rim of the pot. When planted in plastic containers, roots will start to go around in a circle when they get to the edge. The roots go around the perimeter of the pot searching for air. Ultimately this process causes an unhealthy and enormous root mass that suffocates the plant. When left unchecked, the plant will eventually die from root circling.
Fabric pots completely eliminate root circling as the fabric materials enable airflow in and out of the container. When roots get to the rim of the fabric pot, they become dehydrated due to air exposure. This stops the growth of the root tip and lateral roots are sent out, which efficiently extracts nutrients and moisture.
Prevents Overwatering
Overwatering tends to kill potted plants and clay and plastic pots are particularly prone to causing overwatering as they enable the pooling of moisture at the base. Even pots that have drain holes are susceptible to the buildup of moisture. This result in a host of horrible pests, fungus gnats and root rot.
It is practically impossible to overwater in fabric pots because of the absorbent fabric structure. This facilitates the flow of water down through the base of the pot, evenly draining and preventing the formation of pools of standing water, keeping the soil perfectly moist.
Promotes Oxygenation
Gardeners know that plants require carbon dioxide to flourish; well, oxygen is equally vital. Leaves produce oxygen by way of photosynthesis; however, roots do not have this type of luxury. Similar to humans, roots get their oxygen from the environment around them.
In plastic and clay pots, root oxygenation only happens at the surface. With fabric grow pots, oxygen flows through, resulting in a healthy, robust expansive root system that supports a larger plant and better yields.