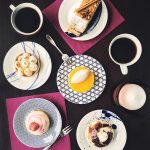 San Francisco, a city known for its vibrant culture, stunning architecture, and delicious food, is also home to some of the best cakes you'll ever have. Whether you're a local or just visiting, you simply cannot leave San Francisco without trying some of its famous sweet treats.
First on our list of the best cakes in San Francisco is the classic "9-Layer Chocolate Cake" from Schubert's Bakery. This cake has been a favorite for over 70 years, and it's not hard to see why. As its name suggests, it consists of nine layers of delicious chocolate goodness, with a smooth and creamy chocolate mousse filling that is simply heavenly. The moist layers of chocolate cake are also perfectly balanced with the richness of the mousse, making this cake an absolute must-try when in San Francisco.
Another favorite is the "Burnt Caramel Cake" from Craftsman and Wolves. This cake features moist vanilla cake layers infused with the buttery sweetness of burnt caramel, and it is finished with a luscious caramel buttercream. The cake is not too sweet, allowing the flavors of the caramel to shine through in each bite. With its deliciously unique flavor profile, this cake is definitely worth a try.
If you're a fan of fruity flavors, you won't want to miss the "Tangerine Dream Cake" from Miette. This cake features layers of fluffy vanilla cake infused with fresh tangerine juice and zest, and it is finished with a tangy tangerine buttercream frosting. The cake is light, refreshing, and perfect for those who are looking for something that's not too heavy or rich. It's also a great choice for the warm summer months when you're looking for something more refreshing than chocolate.
For those who prefer a more traditional cake, the "Victoria Sponge Cake" from Crown & Crumpet is a perfect choice. This cake features two layers of light and fluffy vanilla sponge cake filled with sweet raspberry jam and creamy buttercream. It's a classic cake that is sure to please everyone, and it pairs perfectly with a hot cup of tea or coffee. It's also great for any occasion, whether it's a birthday celebration or simply a weekend tea-time treat.
Last but not least, we have the "Citrus Olive Oil Cake" from Jane the Bakery. This cake features a moist and flavorful crumb, thanks to the addition of extra-virgin olive oil, and is infused with bright citrus flavors from lemon and orange zest. It's finished with a sprinkle of powdered sugar and a dollop of freshly whipped cream, making it a perfect dessert for any occasion. It's also a great option for those who are looking for a cake that's not too heavy or rich, but still packed with flavor.
San Francisco is home to some of the best cakes you'll ever have, and we've only scratched the surface with our list of favorites. Whether you're in the mood for something chocolatey, fruity, or classic, there's a cake in San Francisco that's perfect for you. So next time you're in town, be sure to schedule in some time to sample some of the best cakes in San Francisco – your taste buds will thank you for it.