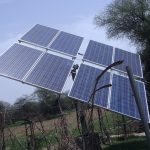 Just like the classic solar panels, flexible solar panels are used in the same manner. The only difference is that flexible solar panels are famed for their agility factor. They are thin and lightweight, which means that they can fit into any space that their traditional counterparts cannot. To get the most out of these panels, however, you need to mount them the right way. For inspiration, here is a quick guide to mounting flexible solar panels.
Since each model is different, you need to first read through the instruction manual. Once you are done, connect the arm brackets to the back of the solar panel. Next, screw it on both sides and then place in the washers so as to ensure that the arm brackets are fitting and then tighten the screw.
Put the mount at the back of the solar panel between the arm brackets. Next, screw it up using the nuts and the hex that comes with the kit and place both the washer and the flat washer on each bolt. Remember, the two washers are used to lock the bolts on each side.
Place the solar panel pole mount and then screw them in place using the lock. Since each side of the panel has four washers and hex bolts, tighten them using a screwdriver or wrench. However, you need to keep in mind that hex bolts should go in first before you put the washer. Once you've put the flat washers, your solar panel should be standing alone.
Face It To The Sun: Although this may sound easy, if you need to get a full impact of the sun you should ensure that your panel is facing the right direction. For instance, if you are facing the north in the southern hemisphere, your solar panel should be facing south and vice versa. When it comes to wiring, you need to consult an expert so as to get a positive result. Remember, there are many flexible panels hence instructions may vary.
Connect the Panel To The Batteries: The negative wire from the flexible panel should be connected to the negative input and the positive wire from the panel connected to a battery that has a fusible link. Additionally, connect the positive wires with another positive wire in the panel and so on.
Summary
As you can see, mounting a flexible solar panel is not a complicated process, especially if you know what to do. Hopefully, this quick guide will start you off and enable you to mount your flexible panel like a pro and within a very short time.