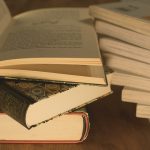 The written word has long been an incredible tool to transport readers into a world of another time and place. Historical fiction, in particular, offers the opportunity to explore and understand the past while also giving insight into our present. Whether it's an epic tale of warfare, a romantic drama set alongside political upheaval, or a humorous look at life during different eras — these are some of the best historical fiction writers who can take us back through time with their vivid writing.
Jeffrey Archer

Archer is best known for his international bestselling novel Kane and Abel. His attention to detail when it comes to both plot and setting makes his stories incredibly immersive. He often uses actual events from historical records as the basis for his novels, creating a vivid and authentic landscape. His books often focus on characters' personal stories, giving readers an intimate look at how their lives are affected by the historical events around them.
Giles Milton

Milton is a master of immersive storytelling. He expertly brings to life forgotten people and places from history in his works. His books combine a compelling narrative with vivid descriptions of different eras and bring to light real-life struggles that occurred during those times. His novel Nathaniel's Nutmeg, about the Dutch colonization of Indonesia for nutmeg production, was one of the first modern attempts to tell this particular story in English literature.
Ken Follett

Follett is well-known for his epic novels that span entire centuries, such as The Pillars of the Earth and World Without End. He is a master at creating intricate plots with multiple characters and weaving in real-world historical events. His stories bring to life the struggles of ordinary people set against sweeping political changes and cultural shifts throughout history.
Diana Gabaldon

Gabaldon's Outlander series is perhaps one of the most popular examples of historical fiction today. A mix of romance, science fiction, and adventure — the books follow time-traveling nurse Claire Randall who finds herself in 18th-century Scotland. Gabaldon combines accurate details about Scottish culture at the time with a captivating story to create an engaging world that readers can't help but be drawn into.
Philippa Gregory

Gregory has been writing historical fiction for over two decades now and is known for her vividly detailed settings that bring the past to life. Her works often feature strong female characters at their center, exploring gender roles throughout history and how they have impacted lives. Gregory also writes non-fiction books about history, providing readers with an even deeper look into the past.
Geraldine Brooks

Brooks is widely known for her Pulitzer Prize-winning novel March, a retelling of Louisa May Alcott's Little Women from the point of view of Mr. March — the father who went off to fight in the Civil War. In addition to her novels, Brooks is also an accomplished journalist. Combined with her in-depth research into the cultures and settings of different times, this allows her to create powerful stories that explore the personal implications of larger political events in everyday lives.
Danielle Steel

Steel has written countless books since she began writing in 1972, mostly focusing on romance novels set in different time periods. Her stories expertly weave together adventure and personal struggles while providing readers with historically accurate details about the era. Whether it's 19th-century San Francisco or a family drama set in World War II — Steel's works give readers an intimate look at how historical events were experienced by those who lived through them.
Conclusion

The best historical fiction writers of our time bring the past to life in vivid detail. Through their stories, readers are able to gain a better understanding of what it was like to live through different eras and cultures, as well as the implications of large-scale historical events on individual lives. From Jeffrey Archer's Kane and Abel to Diana Gabaldon's Outlander series — these authors have crafted works that will remain timeless classics for years to come.