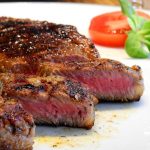 Wagyu hanger steak is a cut of beef that has been gaining popularity in recent years. It is known for its exceptional tenderness and marbling, which gives it a rich and buttery flavor. But what is wagyu, and why is this steak so special?
Wagyu is a type of cattle breed that originated in Japan. The name 'wagyu' literally means 'Japanese cow'. The beef produced by these cattle is prized for its exceptional quality, which is attributed to the unique genetics of the breed and the way it is raised.
There are four main breeds of wagyu cattle: Japanese Black, Japanese Brown, Japanese Polled, and Japanese Shorthorn. Of these, Japanese Black is the most common and highly regarded. These cattle are raised on a specialized diet that includes high-quality feed and plenty of exercise. They are also given regular massages and are often referred to as 'beer-fed' because they are given beer to drink, which is said to increase their appetite and promote muscle development.
The marbling in wagyu hanger steak is what sets it apart from other cuts of beef. Marbling is the intramuscular fat that is found within the muscle fibers. This fat gives the meat a rich flavor and tender texture. Wagyu cattle are known for their high levels of marbling, which makes their meat especially prized.
Hanger steak is a cut of beef that is taken from the diaphragm of the cow. It is a relatively inexpensive cut but has gained popularity in recent years because of its flavor and tenderness. When combined with wagyu beef, hanger steak becomes an exceptional cut that is both flavorful and tender.
When cooked properly, wagyu hanger steak should be served medium rare to allow the marbling to fully break down and enhance the flavor. It can be grilled or pan-seared, and should be seasoned simply with salt and pepper. The steak can be served on its own, or paired with a variety of sides such as roasted vegetables, potatoes, or a simple salad.
While wagyu hanger steak is not an everyday food, it is an excellent choice for special occasions or when you want to impress your guests. Although it may be more expensive than other cuts of beef, the exceptional quality and flavor are well worth the price.
Wagyu hanger steak is a unique and exceptional cut of beef that is highly valued for its tenderness, flavor, and marbling. This steak is a great choice for special occasions or when you want to indulge in something truly special. Whether you grill it or sear it in a pan, make sure to keep it simple and let the natural flavors of the meat shine through. Try wagyu hanger steak today and experience the exceptional quality and flavor for yourself.