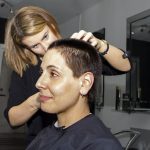 When buying a dandruff shampoo, there are several things you should look for to get the best possible product. First and foremost, you should make sure that the shampoo contains ingredients known to be effective against dandruff. Some of the most popular and effective ingredients include selenium sulfide, zinc pyrithione, ketoconazole, and salicylic acid.
In addition to these active ingredients, you'll also want to look for a shampoo that is gentle enough to use daily without causing any irritation. This is especially important if you have sensitive skin or if you're prone to scalp infections. Finally, you'll want to choose a shampoo with a pleasant scent so that you don't have to dread using it every day.
Types of Dandruff Shampoos
There are two main types of dandruff shampoos: over-the-counter (OTC) and prescription. OTC dandruff shampoos usually contain one or more of the aforementioned active ingredients, while prescription shampoos may contain stronger versions of these ingredients or other medications.
If you have mild dandruff, an OTC shampoo is probably all you need. However, if your dandruff is more severe, you may need to see a dermatologist in order to get a prescription for a stronger shampoo. In either case, it's important to follow the directions on the packaging carefully in order to avoid any potential side effects.
Dandruff Shampoo Brands
There are dozens of different dandruff shampoo brands on the market, so it can be tough to know which one to choose. Some of the most popular brands include Head & Shoulders, Selsun Blue, and Nizoral. However, there are many other options out there, so don't hesitate to try something new if you're not satisfied with your current shampoo.
When it comes to dandruff shampoo, it's important to find a product that works well for you and that you're comfortable using on a regular basis. With so many different options available, there's no reason to settle for anything less than the best.
Are There Any Risks Associated with Dandruff Shampoos?

In general, dandruff shampoos are safe for most people to use. However, as with any product, there is always the potential for side effects. The most common side effect associated with dandruff shampoo is scalp irritation. If you experience any redness, itchiness, or other irritation after using a new shampoo, discontinue use and consult your doctor. Other potential side effects of dandruff shampoos include contact dermatitis (a skin reaction that can cause redness, swelling, and itching), hair loss, and changes in hair texture. In rare cases, people may also experience an allergic reaction to one of the ingredients in a dandruff shampoo.