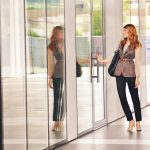 If you are ever considering installing Soft Close Door Hinges in any of your businesses or office areas and doors, there are many things to consider whether pros, cons and or reasons but should always be considered clearly and thoroughly.
REASONS TO CONSIDER:
PREVENTS YOUR OFFICE OR BUSINESS TO BE USED AS A THOROUGHFARE OR PROBLEMS ASSOCIATED WITH IT: these hinges prevent the problems associated with thoroughfare offices like people leaving the door open or knocking when you have an open-door policy and door stays closed!
CAN BE ADJUSTED TO PREVENT "POP-IN VISITORS: just as these hinges can be set to close silently and quickly with the ease expected, it can also be set to open with great difficulty in a heavy set to prevent those who just pop into your office to say Hi as your door always open quickly.
SAVES TIME, COSTS AND INCREASES WORKFLOW: with the door closing on its own and with silence you do not have to:
* Jump up and close the door every time someone passes
through and "forgets to close it
* With no one popping in and out you are not disturbed
if you are busy with a project or even a client
* As most offices have air conditioning systems that
work easier and cheaper if all your doors and windows
stay closed, so if you have these hinges installed,
that irritating costs that arise when the door stays
open is eliminated immediately.
PROS:
1: COST EFFECTIVE: with the cost of the hinges and installation done by yourself or your maintenance department, the overall costs are low compared to the work costs and air conditioning bills that arise when you do not have it.
2: EASILY INSTALLED: Anyone can install it as it comes with easy to follow instructions and even can be done by the suppliers at no extra or minimum costs.
3: DURABLE AND LONG LASTING: The materials used to manufacture these hinges are long-lasting and durable to last you a lifetime and with daily use and abuse.
4: ACTS AS AN ACCESS CONTROL DEVICE: This hinges allows you to adjust the tension to allow access to your office to be controlled by each setting allowing from easy closing to heavy opening.
5: ADDS VALUE TO YOUR OFFICE LOOK AND ASSETS: It comes in various styles and designs it will not only look good but adds a financial increase as an asset.
CONS:
*MINOR SETBACK DURING INSTALLATION: once you decide on which design and style hinge you want, the installation, though easy and quick will leave your office open to access which you in the first place wanted the hinges installed for to prevent.
So with all the relevant information at hand, get your Soft Close Door Hinges today without any problem.