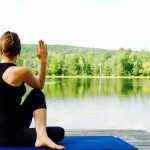 Most people know all about the health benefits of yoga. This one activity that improves flexibility, reduces stress and combats inflammation. Apart from these obvious benefits, yoga boosts your immune system, promotes rapid healing, improves blood circulation, and lowers blood pressure. The best part is that people of all ages can enjoy all the advantages of yoga. Now, imagine taking yoga breaks in Greece. This is enjoyment galore because Greece is a truly beautiful country. A yoga break in Greece will give you all the benefits discussed below.
Excellent Yoga Trainers

You can practice yoga poses on your own but it makes sense to take advantage of the expertise and experience of yoga trainers in Greece. While you are here, yoga trainers will guide you every step of the way. These trainers will teach you new things and help you grow in the yoga world. The best part of the deal is that the trainers are friendly, polite, and patient. They will help beginners develop sound yoga techniques and motivate the experienced yogis to become even better.
Swimming and Fishing

Greece has many fascinating islands and a long coastline. Take a break in Greece and you can swim, fish or surf to your heart's content. If you are not too keen on fishing and swimming, you can just wear your beach clothes, walk around the beach and enjoy the sun. Meanwhile, you should enjoy excellent yoga sessions before or after you hit the beach.
Good Food

Greece offers excellent cuisine and most visitors to this wonderful country know all about the country's Mediterranean diet. Yoga retreats in Greece offer some wonderful dishes and the best part is that these dishes are not just delicious; they are nourishing and healthy too. This is just what you need because that great combination of yoga and good food will help you maintain your figure, increase energy levels, and boost your self-confidence.
Rest and Refreshment

Remember that the purpose of your trip to Greece is a yoga break. For this reason, you should incorporate plenty of relaxation and refreshment into the trip. Eat well, sleep well, get plenty of rest, and generally take things easy while you are in Greece. In between all this resting, sleeping, you should not forget your yoga breaks in Greece. Yoga is good for your health and a yoga break is just what you need. Find the right city in Greece and you will enjoy the experience.