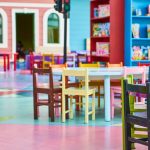 A Childcare Facility is vital because it provides a safe and fun environment for children to learn and explore. It also allows parents to have peace of mind knowing that their children are in good hands. These facilities are an essential part of the community, and they play a vital role in the development of young children. Designing one is no easy task. There are many things to consider when creating a space that will be both safe and welcoming for children. Here are four points to keep in mind when thinking of Childcare Design:
Safety First

When it comes to childcare, safety should be the number one priority. This includes ensuring that all areas are safe for children to play and explore and providing age-appropriate furniture and equipment. It is also essential to ensure that everything is adequately secured so that children cannot hurt themselves. When designing one, it is vital to make sure that all areas are safe for children to play and explore. This includes ensuring that all furniture and equipment are age-appropriate and adequately secured.
Create an Interactive Environment

Interactive activities are essential for children because they help to promote learning and creativity. Additionally, they help to build social skills and relationships. Children who participate in interactive activities are typically more confident and outgoing than those who do not. And they are just plain fun, which is why they are so popular with kids! Since children learn through exploration, it is crucial to create an interactive environment that encourages creativity and learning.
Keep Things Bright and Fun

A Childcare Facility should be a happy place where children can feel comfortable exploring new things. You can achieve this by keeping the colors bright and fun. Additionally, you can add interesting textures and patterns to the walls and furniture. This will help to stimulate the children's senses and encourage them to explore their surroundings. Other tips that can help make your Childcare Facility more fun include adding plenty of mirrors and toys. These can help to create a stimulating environment that is fun for the children to explore.
Create Separate Spaces for Different Activities

It is vital to create different spaces within your Childcare Facility for various activities. This will help to keep the children organized and allow them to focus on each activity. You may want to consider some common spaces, including a play area, reading area, and nap room. You can also add a kitchenette so that the children can pretend to cook or bake. This will help them learn about food preparation and nutrition.
To conclude, when designing your Childcare Design, be sure to consider the needs of the children. This will help to create a safe and stimulating environment that they will enjoy.