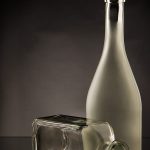 Every year, around 200 billion PET bottles are sold worldwide, and billions of these bottles are discarded into the environment, instead of recycling. Thus, with health and environmental concerns so high, many have taken to buying plastic free drink bottles.
When you discard plastic, it takes thousands of years for the bottles to biodegrade, but even worse, experts say drinking from plastic bottles is unhealthy. In search of a formula for a transparent and durable material, scientists first mixed the substance "bisphenol A" (BPA) with the toxic gas "phosgene" in the 1960s.
BPA was previously used to mimic the female sex hormone "estrogen". In combination with phosgene, the substance was finally misused for the synthesis of polycarbonates. This plastic is used everywhere today – even in plastic bottles. In 1988, however, genetic researcher Patricia Hunt discovered, by chance, that BPA likes to break away from the plastic and attack all adjacent substances.
The Pollutant From The Most Common Bottle
BPA was considered the big revolution when it comes to plastics. But once the chemical has dissolved from the plastic, it becomes a so-called endocrine disruptor. These are substances that alter our hormonal system and thereby harm our health. According to environmental experts, BPA could thus cause fertility problems, as well as diseases, such as diabetes and trigger ADHD. Other consequences could be brain damage as well as miscarriages – and these dangers all lurk in a simple plastic bottle.
Bisphenol A is no longer used in the manufacture of these containers, but plastics are still generally met with a certain mistrust. While BPA isn't used anymore, and that is great news, we still face the unfortunate results of a deluge of plastic bottles that aren't biodegradable. Thus, one of the reasons we must embrace plastic free drink bottles.
Just One Of Many Harmful Substances
Plastic bottles have been found to contain not only hormonally active substances, but also numerous other harmful substances. These include acetaldehyde, which also occurs in cigarette smoke. Acetaldehyde is considered to be very harmful to health, especially in the liver because it promotes the development of liver cirrhosis and the formation of dangerous free radicals that attack and destroy cells.
What's The Alternative?
Glass bottles have many advantages over plastic bottles: they are environmentally friendly, keep drinks fresh longer and are not harmful to health. Although glass bottles have not become a favorite among consumers, if you want to be on the safe side, keep in mind the next time you go grocery shopping because glass appears to be a much safer bet.