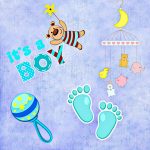 When a friend or a relative has a baby, it is natural for you to wish to participate in their joy by choosing a sensible yet cool gift for the baby and the parents. However, don't make the mistake of thinking that buying premium baby gifts is an unnecessary extravagance. Read ahead for an overview of three really good reasons why premium gifting is a very smart idea.
Share the Parents' Joy
There is only one perfect child in this world and every parent has it—let this age-old saying guide your choice of baby gifts. The baby may not be interested in anything more than eating, pooping, and sleeping. However, that does not mean you should stick to functional gifts only.
The promotion from being a husband or wife to a parent is a fantastic and euphoric experience. Obviously, your gift should convey your appreciation of his/her new entry into the world of parenthood. When buying baby gifts, keep in mind that it is a gift for the new parents as well.
Premium Means Assured Quality
The last thing you want is to purchase a cheap rattle that comes loose in the child's hand. Would you not lose respect for any friend or relative who makes the mistake of giving a cheap poor-quality gift for your baby?
Premium baby gifts can be worth the high cost by giving you the assurance of quality. An overpriced rattle that will keep the baby entertained for hours together without any safety risks is always preferable to a low-cost low-quality alternative.
Move beyond Boring Conventional Gifts
The conventional approach towards baby gifts presumes that the objects included in the hamper must be useful for the baby only. Now, parenting is a team effort and focusing solely on the baby does not make a lot of sense.
This is why premium gifting can be very helpful. You can get useful ideas for gifts for the baby as well as the new parents. For the baby, you can stick to toys and other conventional gift items. You can opt for unconventional choices like classy photo frames for conventional photographs that can be used by the parent at his/her office.
Or, you can choose the premium option and get a digital frame, which will enable the parent to update photos as and when the baby strikes new poses.
Premium gifting lends an aura of sophistication to the entire exercise. It will help your gift stand apart from the crowd and effectively convey the love and respect you have for your friends and their new family member.