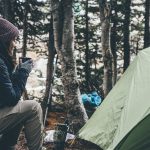 Stating your own blog does not need to be complicated at all. Here are some great tips to get you going.
Decide on a Unique Name for Your Blog
Choose a catchy name that the camping community will notice. Having a name that stands out really does help with your brand and the marketing process. The following features need to be taken into consideration when deciding on a name.
It Must Be Descriptive
Your name should bring out your adventurous side and style. Having a name that is descriptive helps the enthusiasts find you among all the rest.
Make it Easy to Remember
Even though you want to make your name fantastic, which it should be, remember to keep it simple. If your name is easy to remember, it will be easy for people to find you online. If you can use your name as your URL name, it makes it web browser friendly and easy to search for.
Overused Phrases and Names
Try your best to not use any names that travel companies have trademarked. Think out of the box and come up with unique words that best describe your camping blog.
Host Your Site
If you are not that great with these terms, what it basically means is that you will be renting a space for your website online. Once your blog is hosted, you can then post all your data and photos with ease. This makes it simple for people to access your information when they need to via your domain name.
There are literally thousands of companies offering hosting services that you can choose from. Some hosting sites are as little as $3 monthly, but it is important that you do enough research in order to see if you will get your money's worth.
Using WordPress Helps
WordPress will be there to help you choose the perfect name for your camping blogging site. You will need to have a WordPress account that is self-hosted. Your hosting company should have the WordPress software installed on their servers. This is very different from having a free account with WordPress. There are a number of differences, which you can either Google for more information, or contact WordPress to get details.
Well, there you go – all the basic information that you need to get your camping blog up and running, and being seen by many.