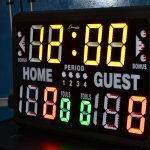 Whether in basketball, football, or volleyball, nothing beats the thrill of watching the ball swoosh through the hoop, sailing over the goal line, or bouncing off of the opponent's court. For both the players and the audience, the excitement of the game is heightened by the thrill of victory. In this day and age, electronic scoring equipment has revolutionized the way scores are computed, making it not only more accurate but also more efficient and reliable.
Electronic scoring equipment, also known as an electronic scoreboard, consists of a display board and a control panel that are used to display and manage athletic scores. The display board is a large screen that shows the scores, the time remaining, and other important information, while the control panel is used to input and update the scores as the game progresses.
Electronic scoring equipment has come a long way since its introduction, and today's models offer various benefits that make them a smart choice for sports events of all sizes. For one, they are far more accurate than manual scoring methods, which are prone to human error. With electronic scoring equipment, there's no need to worry about losing track of points or wasting time correcting errors. The scores are updated automatically and instantly, making it easier for officials to track the progress of the game and for fans to stay up to date.
In addition to accuracy, electronic scoring equipment is also more efficient than traditional manual scoring techniques. Not only does it save time, but it also allows for more efficient management of games. For instance, in basketball games, electronic scoring equipment can help officials keep track of fouls, timeouts, and other events that occur during the course of the game.
Another benefit of electronic scoring equipment is the flexible features it offers. With electronic scoring, the display board can be customized to show various information, including scores, venue name, date, time, and even advertisements. This means that sponsors can take advantage of space on the display board to highlight their brand and products, providing an additional source of revenue for sports events.
Additionally, electronic scoring equipment can be very useful in smaller-scale events like school games. Unlike manual scoring methods that require trained scorekeepers, electronic scoring equipment can be easily operated by anyone. This makes it easier for schools to manage their athletic programs without having to hire additional staff. It also means that students can learn to operate the equipment, giving them practical experience in technology.
Perhaps the biggest advantage of electronic scoring equipment is the longevity it offers. With proper maintenance, electronic scoreboards can last for many years, providing a reliable solution for large and small sports venues alike. By investing in electronic scoring equipment, sports organizations can reduce their long-term costs while enjoying the benefits that technology has to offer.
Electronic scoring equipment offers significant advantages over traditional manual scoring techniques in sports events. From increasing accuracy and efficiency to providing flexible features and cost savings, electronic scoring equipment is an essential tool for sports games of all sizes. Whether you're a sports fan or an event organizer, electronic scoring equipment provides the perfect solution for keeping track of scores and enhancing the overall game experience.