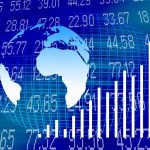 Most Forex traders start trading in this market using their home computer. However, it is not suitable for fast and efficient trading. It is important to use a professional hosting solution for Forex trading. You will receive a dedicated server that will give you the speed and efficiency you need to trade in real time. The result will be consistent and accurate. How do you choose the best Forex hosting plan? There are several things to consider when searching such a plan.
Distance to the Financial Market

While it may seem that geographical proximity does not matter now with high speed Internet, the physical distance does affect the speed and performance of a system. A server close to the financial market has lower latency. It can mean a lot in functions where every microsecond counts. You have to take trade decisions and execute the functions at fast speed. Some functions are automated. These functions will work at their optimum level only when there is super low latency. Make sure the servers are located near the markets where you want to trade.
High Speed

The speeds of both processing and Internet connection matter in this trading. High speed processing is valuable in automated trading. Complex analysis software programs require quick processing and fast connection. Professional datacenters run on very fast Internet connections. Choose a plan that can take advantage of the high-speed processing power and Internet connection. There should not be any bandwidth congestion issue.
Robust Security Layers

The Forex hosting company must provide additional security layers and isolation. It should be over and above the ones provided under the typical hosting plans. These security features ensure protection of your software and data.
Why Use a VPS Plan?

You receive a dedicated server that takes advantage of latest virtualization technology. A physical server is split into virtual subunits whereas each unit works independent of the others. It is a self sufficient system and offers excellent protection of your data. The required amount of memory, bandwidth and RAM will be provided to you. It will result in ultra low latency, enhanced security, exceptional accessibility and better software performance. Some VPS plans take advantage of the remote desktop protocol, giving you access to the full features of a VPS from your PC.
You will not miss the perfect trades when your system runs day and night without any issue. Forex trading is a 24/7 activity worldwide. When you want to become a part of this market, you have to use the best Forex hosting plan. You can start with the basic plan and upgrade to the more advanced options as your trading volume increases and becomes complex.