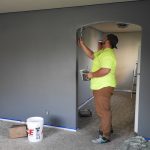 You just bought a condo and are excited about renovating it and adding a personal touch to the space. Condo renovations in Singapore can be exhilarating projects as they give property owners an opportunity to transform their new space. However, amidst the excitement, one may forget that the project requires proper planning to keep the costs low. Overspending on the renovation is not a wise idea, especially if you are strapped for cash and are trying to make savings.
In this light, here are a few tips on how to make renovations while keeping the costs low.
1. Work with a Budget
Don't start any condo renovations in Singapore before setting a budget for the entire project. A budget will help you stay on track and avoid overspending. Outline everything you want to do, from buying appliances and fittings to installing new lighting and fixtures. After setting your budget, do some market research to find out the prices of these items and allocate each expense accordingly. Proper budgeting will help you to determine whether the amount you are setting aside will be enough for the work. If the money isn't adequate, you can cut down on the renovations or look for more funds and save yourself from downtimes due to financial constraints.
2. Prioritize Renovations
It is normal to feel like you want to change the entire condo and give it a new look and feel. However, some modifications are unnecessarily expensive. For example, if the lighting fixtures are great and in excellent condition, you don't need to buy new ones. Similarly, you don't need to install new floors or repaint every inch of the condo. Have practical expectations, especially if you don't have much money to spend. Therefore, prioritize your renovations by working on the most important tasks. Avoid splurging on unnecessary remodels if you want to make savings.
3. DIY as Much as Possible
Hiring professional condo renovations Singapore contractors for tasks such as installing electrical wiring and fixtures is essential for your safety. However, you can save by doing some DIY work. For example, you can carry out tasks such as painting, building and installing ceiling box beams, designing DIY furniture, and decorating without professional help. Ask your family to help out, and you will save a lot of money that would be spent hiring an expert. However, note that if you aren't sure of how to do something, it would be better to pay for someone to do it than mess it up and incur additional costs.
Condo renovations can be as cheap or as expensive as you want them to be. However, if you are trying to save an extra coin, you need to look for ways to cut costs on the project. Follow these simple yet effective tips to keep costs low during the renovation. Remember, some renovations can be carried out later after you have settled and regrouped financially.