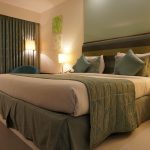 A bedhead is one of the most defining details in a well-groomed bedroom; a unique feature that adds glamour, amps up the comfort factor, act as a great sound baffle and even provides clever extra storage to boot. There are many bedhead styles in the market—velvet, upholstery, timber and leather among others. Upholstery bedheads are some of the most striking and visually appealing, a feature that has made them quite popular with Sydney shoppers.
Here's a roundup of useful tidbits that you can use to find the finest upholstered bedheads Sydney:
Advice for choosing a bedhead
Many people make the mistake of downplaying the role of a bedhead as an accessory. It's best to view a bedhead as a whole new piece of furniture that you are adding to your room. Go for something that brings various pieces together and blends harmoniously in your space. An upholstered wall panel or nook can create a focal point in the room by anchoring the bed and furniture making it a great option for rooms with industrial finishes or tall ceilings. A large bedhead, on the other hand, helps create a fashion statement in large rooms while light options such as wall mounted floating panels provide a sense of height and extra space in a smaller room.
Custom made or off the rack?
You can get a custom made solution that's either a retro fit or the look without bed frame. Floor standing options suit renters better while homeowners can choose from a variety of wall-mounted options. There are some great off the rack options too though many come as part of the whole bed frame.
Best fabrics
Talk with your upholsterer about your preferred texture and color. You can take your cues from your favorite bed linen—think Persian carpets, Kantha quilts and Kilims for feature statements. Leather bedheads are also popular though more natural finishes including light tans tend to discolor with time.
Cost
Low-end upholstered bedheads in Sydney start from $150 making them affordable for seasonal updates. Higher quality bargains start around $245.
Mid-range bedheads provide a wider choice in color, durability, fabric quality and fun design details. These fall in the $599-999 range. A high-end custom solution can knock you off $2,000.
A little known fact is that upholstered bedheads allow for more comfort than typical bed frames. They also create eye-alluring focal points in rooms with minimal effort. However, settling on a suitable bedhead design can be a bit tricky. Talking to a seasoned upholsterer can help before making a decision. Hopefully, the above tips will help you find some of the best upholstered bedheads Sydney gas to offer.