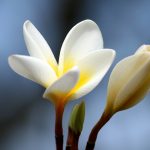 Although plumeria is tropical plants, they can survive in colder climates if the temperatures remain above freezing. During autumn, plumeria will enter a dormant period and stop growing for the winter season. To prepare for dormancy, you should gradually reduce watering until the plant has hardened off and stopped producing new growth. Once this happens, it's time to move your plant indoors or put it into cold storage if you live in an area with lower winter temperatures.
Indoors Care
If you decide to keep your plumeria indoors during the winter season, you should ensure that it still receives plenty of sunlight through a window or skylight. Plumeria also requires humidity, so you should mist the leaves daily with a spray bottle and place a bowl of water in the same room as your plant. This will help to keep the air around your plumeria nice and humid.
Cold Storage Care
Cold storage is a great option for keeping your plumeria safe through winter if you live in an area where temperatures dip too low for indoor care. Begin by cutting off all of the foliage from your plant and discarding it. Then, cut back each branch until only 4-5 inches remain on each stem. Next, place your trimmed plumeria in a paper bag or cardboard box filled with dry potting mix or sawdust and store it in an area that remains just above freezing but no higher than 50 degrees Fahrenheit.
Maintenance
To keep your plumeria healthy during the winter season, make sure to check in on it regularly. If you are keeping it indoors, look for signs of pests and diseases that could potentially harm your plant if left untreated. Allowing an infestation or fungal infection to spread unchecked is a sure way to kill off your blooms come springtime. Also, check the bag or box periodically throughout the season for plants stored in cold storage to ensure everything is still dry and mold-free.
With preparation and careful maintenance, you can safely care for your plumeria through the winter months without any problems. Following these simple steps will reward you with beautiful blooms come springtime.
What to Avoid When You Take Care of Plumeria in Winter?
When taking care of plumeria in winter, you should avoid a few things at all costs. Never leave your plant outdoors during winter if temperatures dip below freezing, as this can significantly damage or even kill your plant. Additionally, be sure to avoid over-watering or overwatering your plumeria once it has entered its dormant period, as this could cause rot and other diseases. Lastly, never allow pests or fungal infections to spread unchecked on an indoor plant; take action quickly if you notice any signs of these problems before they become more serious.